RETRACTA® AUTO REWIND HOSE REELS
Retracta® is the robust market leader in rewind hose reel systems.
Retracta® is the answer to storage and safety problems, and the wide range of models allows the reel to be used in any industry work environment.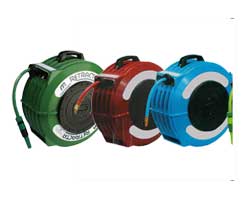 FEATURES
Superior positive latching mechanism allows the reel to be mounted in any position
Weather resistant, high impact uv stabilised polypropylene
Safe storage system that keeps hoses off the floor
Versatile – average weight with hose is 12 kg
Low rewind tension allows for easy hose "pull out"
Full stainless steel mouth for improved hose and reel service life
Lockable wall or overhead mounting bracket bu100 is supplied with every hose reel purchase and allows for hose reel rotation through 180°
Optional bb100 bench or floor mounting bracket is available separately
An ability to have colour coded reels to suit any application or fit within an individual corporate look (conditions apply)
Fully repairable
10 year warranty
Guaranteed availability of spare parts for 10 years
ACCESSORIES
BB100 Retracta Branch Bracket
STANDARD DUTY SINGLE PEDESTAL RANGE
Macnaught standard duty metal hose reels are ideal for those applications where occasional use is normal.
These reels are constructed in powder coated steel with a single pedestal and integral spring system.
The stainless steel reel is bare, with a high polish finish and is ideal for highly corrosive environments.
FEATURES
Double supported steel drum shaft
4 bolt heavy duty steel mounting plate
Multi position ratchet for positive latching
Adjustable guide arm - can be wall, floor, ceiling, pit or vehicle mounted
Multi directional nylon roller guides reduce hose drag and wear
Lubricated spring encapsulated in cassette for safety
Full flow swivel for maximum product delivery
External swivel for easy servicing of swivel seals
5 year warranty
10 year parts availability