LIQUID FLOW SENSORS - MODEL 800
Because of increasing quality standards and higher efficiency demands in processes the market for flow sensors is growing strong.
The last decades many different technologies have been developed to measure flow. Each with specific dependencies and for a specific field of application.
There is a large gap between high-end and general purpose instrumentation, where accuracy and price per unit form the main differences.
SwissFlow has pioneered in developing technology to make a combination of reliability, high accuracy, long lifetime in one instrument.
With the very competitive price level the instrument is available for every field of application. It therefore meets all the demands of the markets.
SF-800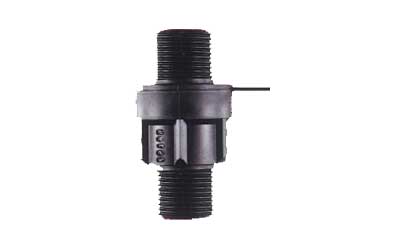 SF-800/6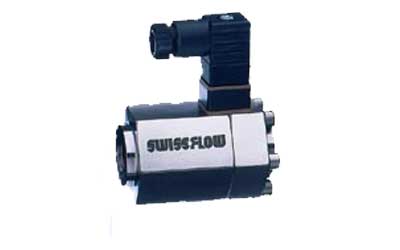 TECHNOLOGY
| | |
| --- | --- |
| Reliable | |
| Accuracy | Reliability is one of the reasons to select this principle, but this unique sensoralso provides an outstanding accuracy. This sensor also distinguishes itself from others on life time. With any mechanical principle there is a restricted life time caused by internal friction. The turbine in the sensor is designed to be free from friction. |
| Life time | |
CONSTRUCTION
The patented SwissFlow technology is based on a small rotor, weighing only 0,04 gram. The material used is Vectra, a liquid crystal polymer selected because of it's low weight and excellent chemical and thermal resistance.
The rotor is placed in a PVDF housing. At the inlet of the housing a swirl in the fluids pattern is generated. This controlled swirl is caused by a series of flow formers.
The swirl is directed to the rotor blades and this will cause the rotation. Due to the low weight, the rotor will be able to float in the flow stream. The rotor will be lifted from its axis and will start to revolve proportional to the flow without friction.
The rotation is detected using an infrared beam. The rotor is interrupting the infrared signal and this will provide directly the pulse output. The infrared beam is generated by a diode and detected by a photo transistor on the integrated electronics.
The electronics is placed and fixed around the rotor housing. rotor. With O-rings the elements are placed in an outer housing. This outer housing is also made from PVDF and shields any external infrared light from the electronics. The two parts of the outer housing are ultrasonically welded together.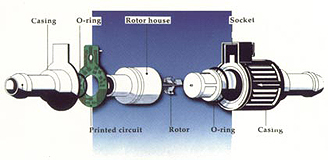 MARKET APPLICATIONS
Beer & Beverages
Hot Water Appliances
Distribution Measurement
Chemical Dosing Equipment
Medical Equipment
Hydraulic Systems
Automotive