APPLICATION: Measuring the volume of cold (hot) water passing through the pipeline.
FEATURES
Removable element structure
Easy installation and maintenance
Long term clear reading
Inter-exchangeable spare parts
Magnetic drive
Sensitive action
Small pressure loss
Long working life,etc.
WORKING CONDITION
Water temperature:=40° C (90°C for hot water meter)
Water pressure:=1MPa
MAXIMUM PERMISSIBLE ERROR
1.In the lower zone from Qmin inclusive up to but excluding Qt is ±5%
2.In the upper zone from Qt inclusive up to and including Qs is ±2% (±3% for hot water meter)
Note:Technical data conform to international standard ISO4064.
MAIN TECHNICAL DATA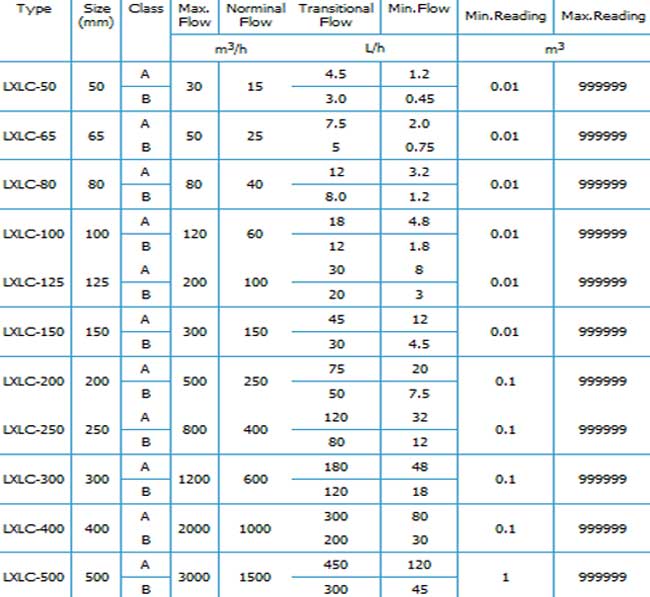 Note:For "MAIN TECHNICAL DATA" of LXLC-50R~200R removable element woltman hot water meters, please refer to LXLC-50~500 water meters.
DIMENSIONS & WEIGHT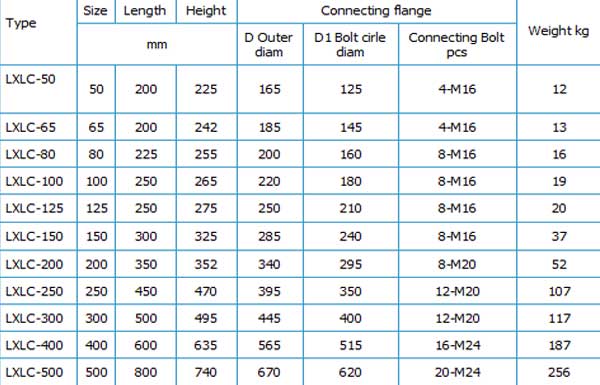 Note: The flange dimension conform to GB2555-81 standard. Order for products of special requirements is also accepted.
PRESSURE LOSS CURVE