PRINCIPLE OF OPERATION
Ultrasonic Doppler flow meters operate by transmitting and receiving ultrasonic sound signals in liquids. An instrument, such as the DMDF1, incorporates dual transducers that are clamped on opposite sides of a liquid filled pipe. Each transducer contains a piezoelectric crystal.
Referring to the above illustration, the ?1 transducer transmits an ultrasonic signal through the pipe wall into the liquid. A portion of this signal is reflected by suspended solids, entrained gases or flow turbulence moving with the fluid, back toward the second transducer, ?2, Electronic circuitry compares the transmitted frequency with the received frequency.
The difference, or frequency shift, is proportional to fluid velocity, in accordance with principles developed by Christian Johann Doppler. If the liquid is not moving (a zero flow condition) the transmitted and received frequencies are identical.
The DMDF3 features advanced signal processing and an exclusive auto-adapting digital filter to produce accurate and stable indications of flow rate and totalized flows. A full function keypad allows field configuration of pipe size, engineering units, the 4-20mA output and all operating parameters.


Features
For dirty liquids, a certain amount of air bubbles or suspended solids contain
Excellent low flow measurement ability, low to 0.05 m/s.
A wide range of flow measurement, high flow rate can reach 12m/s.
Automatically signal gain adjustment.
User-friendly configurations.
4-20mA and dual relay output
Accuracy: 2.0% Calibrated span
DFM-IV DOPPLER FLOW METER SPECIFICATIONS
SENSORS
Model SE3 single-head ultrasonic with 20 ft(6m) sheilded cable and stainless steel mounting kit for pipes ½* (12.7 mm) ID or larger. Designed to withstand accidental submersion to 10 psi(non-functional while submerged).
Sensor Operating Temperature : -40° to 200°F(-40° to 93°C)
OPTIONS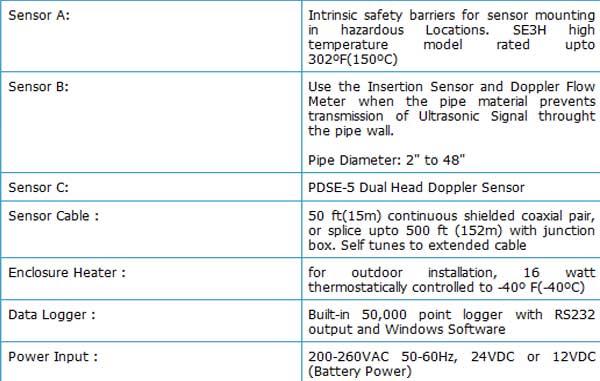 APPLICATIONS
Wastewater sludges
Ground water
Flow surveying
Remote field site flow tests
Used as a flow prover to other flow technologies
Mining recirculate
Pump output verifications
Sewage lifting station
monitoring